Lambayeque
Things to see:
CHICLAYO :
Visit of Chiclayo city, capital of Lambayeque department.
SIPAN :
Visit of Sipan, the place of one of the most fantastic archaeological discovers of the century, a young and important sir tomb exhumation of Mochica culture, buried with a guard, bishop, women, dog, a lot of objects and gold, silver or made of chaquira (shell pearl) jewels; and Bruning museum.
TUCUME :
Visit of Tucume, the place which join more of twenty pyramids! Place so extraordinary that the famous Thor Heyerdal decided to install an archaeological research center.
SICAN :
Visit of the archaeological site of Batan Grande.
---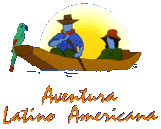 Aventura Latino Americana SRL
Avenida Mariscal La Mar, 146 Lima 18 (Miraflores) Tel/fax: 51-1-447.14.44
2003 copyrights Aventura Latino Americana SRL & Guy Vanackeren