Tumbes
TUMBES :
Visit of the city which has abundant formal and informal or contraband commercial activity, due basically to the proximity of Ecuadorian frontier.

MANCORA :
Mancora, small fishermen recognized principally by their shellfish, fish, the quality of surf which can be practiced and its beaches. A small paradise.

P. PIZARRO :
Puerto Pizarro and their mangrove tree woods, aerial roots trees which are similar inexplicably to interlaced nails in a mysterious way above the water and between which the prawns and shell hammers dig deeply the mud to catch them, whereas on the top of their heads, the high trees of the zone are covered with milliards of birds. Visit in boat unforgettable!.

BEACHES :
Visit the beautifull tropical beaches of Tumbes.

---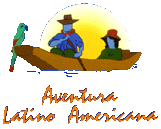 Aventura Latino Americana SRL
Avenida Mariscal La Mar, 146 Lima 18 (Miraflores) Tel/fax: 51-1-447.14.44
peru@amerique-latine.com
© 1998 Aventura Latino Americana
© 2003 Aventura Latino Americana